As the partial federal government shutdown continues, Masbia Soup Kitchen Network is reaching out to impacted employees.
Alexander Rapaport, executive director of Masbia, went to airports to tell TSA agents about the three city locations where they can be served, including at 105-47 64 Road in Forest Hills.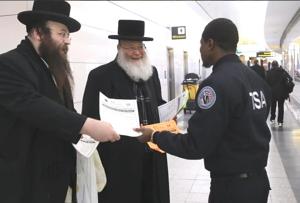 PHOTO COURTESY MASBIA SOUP KITCHEN: Alexander Rapaport and his father, Yosef, hand out fliers at LaGuardia Airport to TSA agents informing them of meals at Masbia.